theguardian

/

Culture

/

Art and design
Constructive criticism: the week in architecture
Camelot comes to Cockfosters (maybe), Frank Gehry's Signature Theatre opens and the World Trade Centre site struggles with a design flaw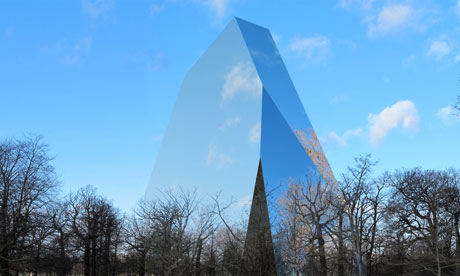 "Camelot!"
"Camelot!"
"Camelot!"
"It's only a model."
Monty Python and the Holy Grail
might just have got it right. What other explanation can there be for images of a striking crystalline edifice that appeared online this week, purporting to be a new centre for all things Arthurian, built on the newly discovered ruins of the original Camelot – in Cockfosters, north London.
Surely this can't be for real?
The Stone
is a 36-metre-high shard of mirrored glass intended for Enfield Park, apparently designed by Swedish architects Råk Arkitektur. As the name suggests, it was inspired by the rock from which King Arthur pulled Excalibur. A sword-like shaft of light will pierce the cavernous interior, which will host "a multi-faith meeting place and a cultural centre".
Råk's name (pronounced "rock") and flimsy website aren't entirely convincing. Nor is the foundation behind the project, the spurious-sounding Organisation for the Protection of
Mythological Monuments
. Their website at least includes a phone number. At the end of the line is a young-sounding "designer" called Tom Gottlieb. He claims there's just as much evidence pointing to King Arthur's seat being at the end of the Piccadilly line as there is for it being at, say, Tintagel, and that Enfield council have been "receptive" to their idea. Come on, it's all a hoax, isn't it? "Well, Camelot is a myth," says Gottlieb cryptically. In other words, this could just be a speculative publicity stunt by some under-employed designers – in which case, well done. It worked.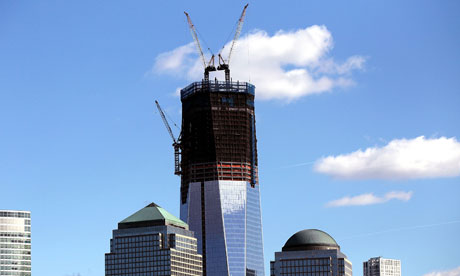 Less of a laughing matter is New York's World Trade Centre site. Work has ground to a halt on the 9/11 Memorial Museum, which is unlikely to open on 11 September this year as planned. Two World Trade Centre and Three World Trade Centre, the skyscrapers designed by Norman Foster and Richard Rogers, have also apparently stalled owing to lack of tenants.
And this week, a "
design flaw
" emerged in the centrepiece "Freedom Tower", or One World Trade Centre. The problem is that the temporary subway station nearby is in the way, so they can't finish the building's underground loading bays, which means tenants can't fit out their space in the 104-storey building. Five temporary loading bays have had to be built, above ground, at much extra cost (now estimated to have climbed to $3.8bn). "Several years ago there was a design miss," admitted Port Authority director Patrick Foye. "Should it have been caught? The answer is, 'probably'."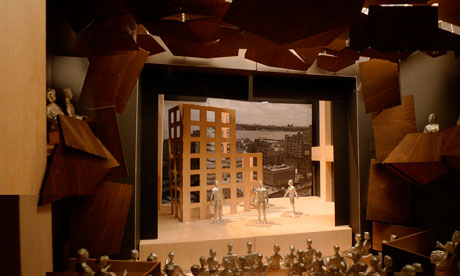 Faring considerably better in New York these days is Frank Gehry. His own plan for a performing arts centre for the World Trade Centre site has been on ice for years, but at least he got his rippling
Spruce Street skyscraper
completed last year, and this week the new Gehry-designed Signature Theatre opened on
Pershing Square
. It's not distinctively Gehryesque on the outside, but fashionably open and stripped down on the inside, with three new stages among its features.
What's more, at the opening, New York mayor Michael Bloomberg spontaneously pledged to get 10 more Gehry projects off the ground in New York before he leaves office in two years' time. That's the kind of news every architect wants to hear, though it'll take some doing. "If my math is any good, Frank, that is one every 70 days," Bloomberg pointed out to his starchitect buddy. "So we should meet some time later today to get going." Perhaps he could knock out some loading bays?
A good week also for Zaha Hadid, who yesterday announced that she is to build the new
Central Bank of Iraq headquarters in Baghdad
– her first project back in her home country. No details as yet, though it's some way from the European culture palaces she's used to designing. The existing Central Bank
came under heavy attack in June
, in an audacious attempted robbery by armed militants and suicide bombers.
And finally, the most cheering news for architecture fans must be the restoration and reopening of Mies van der Rohe's
Villa Tugendhat, in Brno, Czech Republic
. One of the most pioneering designs of modernism, whose opulent onyx walls,
iconic furniture
and free-flowing spaces still look state-of-the-art today – if not the spartan bathroom fittings. Destined to become an architectural pilgrimage site, it opens to the
public in a month's time
.
Ver:
http://www.guardian.co.uk/artanddesign/2012/feb/03/constructive-criticism-camelot-cockfosters